A great way to improve your engagement with your audience online is to ask them questions within your social media and blog content. That's because a direct question addressed to your reader gets them thinking about your content and your products and services and encourages them to respond. And if you do this skillfully, you can turn your social media content and your blog posts into a lively conversation, which in turn gives you a great opportunity to further interact with your audience and build up and nurture your relationship with them.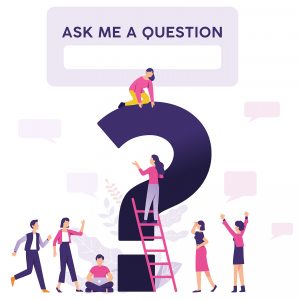 The big question is …what kinds of questions should you ask?
Here are seven different ideas to get you thinking:
Ask for opinions: By asking both your social media contacts and people who follow your blog for their opinion on a debatable topic, such as a recent business news item or some issue where there are differing opinions in your marketplace, for example, environmental concerns, you can get them to reply by commenting on you subject item or by re-posting their viewpoint.
Ask your customers how they overcome common problems: Take a common problem that your readers face and ask them how they overcome these particular types of problem. For example, if your audience consists of bloggers, you could ask them how they drive traffic to their site or how they design their own blog to get the best readability and therefore 'stickability' on their site.
Ask them how they're doing: This is a great way for you to use both your social media and your blog as a means of gathering great feedback from your prospects and customers. For example, you can ask your customers: How are you doing with your new product/training purchase? Is the programme content helpful? What would you like to see more of? Did our service solve your problem? What could we do to improve our written/video blog content, our service or our products?
Ask your readers a question: By asking questions such as "Did you know?" or "What's your opinion?" is a good way to get your audience to engage and share curious or little-known facts with you. Ask them whether or not they knew about certain topics and what their own thoughts about them. This can create a discussion based around the topic and provide you with powerful feedback, ideas, content curation, and even new product and service opportunities.
Ask them for their favourite: A great content conversation starter is to simply ask your readers to tell you about what is their favourite something or other is. For example, you might ask your Word Press blogger audience, "What's your favourite Word Press plug-in?" By doing this you can get your audience to state their favourite and many will give you their reasons why and this in turn can lead to opinions and discussions which create further engagement.
Ask them about their experiences: Ask your audience about a past experience on a specific topic that stands out in their memory. Choose positive examples to ask them about with the aim to get them thinking about a major achievement or an important lesson your readers learned. This will encourage other readers to add to the replies and prompt further audience participation.
Ask open-ended questions: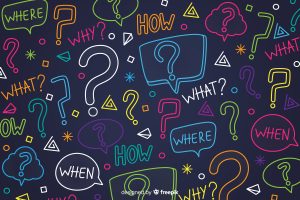 Although it's a good idea to use surveys and polls for gathering data through yes/no questions, if you're just asking yes/no questions in general, such as: Do you agree with the following…?, then you'll just end up with people simply replying "yes" or "no." Instead, by asking open-ended questions you can lead your readers into lengthy discussions whereby you'll get them thinking much more deeply about your subject area. So, use questions such as:"How would you improve this…?" "What different options could you add to…?" "What do you think would happen if this product and service was changed to…?" "Why do you think some businesses succeed on social media and others don't?"
---