According to Google up-dates and Instagram's published figures in November 2019, Instagram has over 1 billion accounts and 500 million active users with over 300 million active users daily. 80% of those users are outside the USA, there are 4.2 billion likes every day and there are over 95 million photos and videos uploaded each day.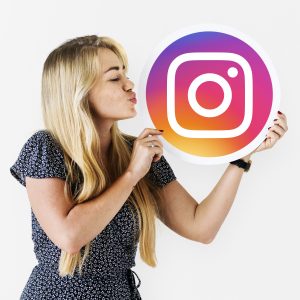 Which means that these statistics show how important Instagram is and what a fantastic goldmine for online marketers and businesses, including your own!
But here's the big issue… How do you acquire followers on Instagram who will then become your loyal customers?
To help you achieve this, here are 5 steps and guidelines:
You sign up with Facebook: This is the easiest and quickest way to set up your Instagram account as it will automatically allow you to follow your family and friends who are already on Instagram. Then in turn, this action will help you because they will be following you as your first followers on your Instagram account. The reason why this is important is because this action will boost your profile and get you lined up and ready to get going.
You follow others: Once you get started with your friends, family and colleagues, the very next step, which is the fastest way of growing your followers on Instagram …is to then follow others. And by following others, they in turn will be prompted to follow you back and therefore create a connection between you both. This action will again help you to increase your followers on Instagram. Plus, it will also increase the number of likes on the photos which you have on your profile. In other words …you follow others to get more followers.
You use quality photos: It probably goes without saying, that the most important aspect of Instagram will certainly be the quality of the photos you take and the images you post. So, in order to get this right, you must make sure all of your photos are of a very high-quality standard before posting them onto Instagram. By posting high-quality photos, especially a high-quality profile photo and interesting 'selfies' onto Instagram, this will really help you get more likes, get you more comments and in turn, get you more followers. And as a result, this will assist you by pushing you up 'the ladder' and therefore on raise you above your competitors who are in the same market niche. The key point to learn here is …when taking your pictures with a really good and reputable camera, you must really make sure the lighting is in your favour and focus is right in order for you to get your awesome photos that you need to go viral on Instagram.
You like other photos: This is really all about getting noticed… It's like walking into a party that's in full swing and you start connecting with people who you don't know by you taking the first step to say hello and start speaking by introducing yourself to them and telling them something that stops them in their tracks and they go, I need to talk to this person. And it's the same on Instagram …because when you like other people photos, those people in return, then go and visit your profile, they like your photos, and they decide to follow you. This is exactly how to start growing your network on Instagram.
You comment on other photos: Once you begin liking other people's photos, the next step is to then comment on their photos. This is a brilliant method for growing your followers and, while it may take more time and effort to do this action, it really does pay off. You see, when you comment on other people's photos, you're increasing the chances of them in return following you and making the effort to like your profile photo and posted photos. Which means …you need to book time into your social media engagement timetable and plan to comment on other people photos with the aim to increase your own followers.
With the upcoming year 2020 predicted to be another bumper year for Instagram, a final tip for you to get more followers is to create great Instagram Stories and by using hashtags and location tags in your Instagram Stories.
---