As a business owner today, you need to go further than just having a 'sales' focus running your business.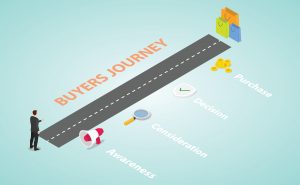 Meaning you also have to have a marketing focus that builds long-term relationships with your customers based on their journey with you and their 'lifecycle' buying preferences.
When people purchase from your business whether you're from a business to business (B2B) perspective or as a consumer (B2C), in today's marketplace, they like to interact and buy from companies they trust, not just salespeople trying to make money off them.
This is why adopting a Customer Lifecyle Marketing or CLM model can be very successful because it genuinely puts the customer at the center of the entire marketing process, including making sure that they are the focal point of the whole business operation instead of just focusing on sales.
This model is also different from the sales funnel where the customer enters at a single point in their purchasing experience when they're looking for a way to solve to their problem and are sold a solution.
If you're stuck in this sales funnel structure and not getting the growth you want, then the Customer Lifecycle Marketing Model can be your path forward to success in business. That's because you can gain lifetime customers who buy from you again and again and become your biggest advocates and referral partners.
Here are 7 powerful reasons as to why you should use Customer Lifecycle Marketing to gain an advantage in your business:
The reality of today's business, especially online, is that a customer can enter your business at any point in their buying journey. This is the opposite perspective from the sales funnel, where you can lose prospects who are not at the exact point you're hoping for in order for them to buy from you. Which means you have to plan out your customer lifecycle journey as part of your overall business and marketing goals.
Attract their attention
That's where the Customer Lifecycle Marketing Model becomes more flexible because it takes into account how they found you such as through a Google search, by reading your blog post or offline from a referral or an event. This gives you more opportunity to interact with them and encourage them to buy from you at their stage of their lifecycle journey.
Hold their interest and capture their details
This is especially so if they're considering their options and need to be motivated and encouraged before they make their buying decision or give you their details such as their email address or phone number, even if they are a repeat purchaser. Once you provide interesting information, you can now continue your interaction on a personal level and begin the process of…
4. You nurture your leads in a personal way
Because of the flexibility and support it offers, the Customer Lifecycle Marketing Model now gives you the big benefit of enabling you to nurture leads the leads you have captured in a personal way. This is absolutely essential because people don't like to feel just like a number. They just don't want to be 'sold to'. Instead they want personal attention and if you want to build truly long-term relationships with your customers, you need to move towards offering authentic and real human interaction.
If you're not paying personal attention to your prospective customer, that's when you lose their interest. Customer Lifecycle Marketing on the other hand is focused on repeat sales and lifetime loyalty. This is where you move prospects into the 'sales conversation' process and towards the purchase in what's known as 'onboarding'. What you're doing is offering guidance, help, support and educating you prospects for new opportunities and for the buyer to get the most out of your services. All of this contributes to deepening your customer relationship which is the backbone of the Customer Lifecycle Marketing Model.
6. Stay Engaged with Your Customers and Build Loyalty
The Customer Lifecycle Marketing approach works in the 'sales conversion' part of the customer journey because you have engaging with people at each stage leading up to the sale. They have discovered you and your brand, received valuable information, explored your products, and have been assisted in making a positive purchase decision with guaranteed post-purchase support.
Deepen the relationship
Continued engagement through your delivery and satisfaction procedures deepens your relationship when your customer buys your product and service offer and helps you become the natural choice in the future. Through engagement, they feel like they're part of your brand, not just a sales figure. Engagement includes everything from daily communication through social media, blogs or email marketing, to creating vibrant online communities, and learning opportunities such as webinars. And in return, a strong Customer Lifecycle Marketing strategy will pay dividends for you in various ways that your customers will engage back with you by buying more from you, writing reviews and case study testimonials, and referring you to others.
So in summary, keep your audience interacting with you and create a flexible path for your customer journey because this is the engine that keeps Customer Lifecycle Marketing moving.
---