Where to Post Your Videos
Having seen how to create your video scripts in the previous article, you now need to know where to post them online. It's not enough to simply create an inspiring video. You next step is that you then need to know where to market your video and how to promote it.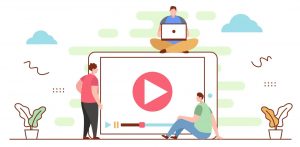 The reality is, video content online doesn't go viral by itself and so the important point to take away here is …you have to systematically promote it.
This is not based on opinion but on actual tests and if you don't know where to post your videos, then try following a few or all of these 10 video posting tips…
YouTube
YouTube is the second most popular search engine in the world after Google who owns it. That means the first place you should post new video content is on YouTube. Once you upload your video onto YouTube, be sure to add keywords in your video title, a description, and tags section. You can also refer to a previous article called: "Are You Missing Out On These 7 Powerful YouTube Benefits To Ramp Up Your Marketing?"
Vimeo
Vimeo is a video-sharing site where you can upload your videos in 'high definition'. One big advantage to using Vimeo is that the site isn't supported by advertisements, so you don't have to worry about other people's ads and competitors getting in the way of your video and distracting from your own video posts.
Facebook
The Facebook platform makes it very easy for you to share your videos. You can upload it through a page, and then share it with your friends through your personal profile. Then post the relevant video topic inside your favourite groups. You can also use the Facebook Live option – see the previous article on: "6 Easy Ways to Boost Your Lead Generation on Facebook".
Instagram
As Instagram is now owned and promoted by Facebook, this social media platform now has over one billion active monthly Instagram accounts and several online research sites confirm that Instagram customers love videos. Instagram is a great media to showcase your content and offers and the 'in' place for people looking at business brand, 'stories' and for purchase decisions. Just remember that Instagram is essentially a mobile platform using 'vertical' or 'square' videos.
Pinterest
Pinterest isn't just a social media site for pinning your pictures onto 'pin' boards. You can also 'pin' your videos in Pinterest and unlike many other social media platforms, this makes it easy for you to share your video content for a longer period of time at around 3 months which is a big plus for new followers coming onto your site to discover your content.
LinkedIn
LinkedIn now supports 'native' video, which means you can upload your video directly into the social network without having to post onto other servers such as YouTube. However, videos on LinkedIn do have a time-limit. Videos on LinkedIn must be under ten minutes in length. The benefit of posting on LinkedIn for videos is that the platform's algorithms rate videos highly and your 'story' promotes you to other business people's 'Feed" to build relationships with you personally and your business.
Twitter
Many Twitter users love watching video, especially on mobile hand other help devices. Twitter makes it easy for you upload your latest creation to their social media platform, but keep in mind that video on Twitter must be no longer than 2 minutes and 20 seconds. If your video is longer than that, consider editing a special version just for Twitter. You can also upload videos onto Twitter from your phone.
Your Email List
Don't forget to share your new video with your list of email subscribers because video makes a great addition to your email campaigns as it encourages social sharing and gets more engagement. You can do this by taking a screenshot of your video and embed the image into your emails, then link the image to one of your web landing pages with the video embedded so that when your subscribers click on the player, they'll be redirected to that exact page.
Your Website
If you're promoting your website, and you should be, then having a video on at the very least, your home page is a must because a great video will attract attention, get people engaged with your video, experience your content. Videos will also keep the visitor on your site helping them to get to like what you're offering, to get to know you, and importantly, to get to trust you and this will help organic SEO.
Your Blog
Another place where you can share your video is on your blog where you can share your passion and personalise your product and service offer. Understand that you don't just paste the video code into your post because search engines don't understand what videos are about, so your post is unlikely to be found on Google if you only post the video. So you need to add a paragraph or two about your blog post by explaining what your video is about and the reason why this topic matters to your audience. This will help your new video be indexed in search engines like Google and boost you chances of social sharing.
---