Many people see business networking as a negative or a fear factor when meeting new people or presenting to business groups. Which means from the very outset in business you have got to totally change your mindset about business networking. Instead you need to see it in a positive light as purely a business skill and ongoing process that you can learn to create long-term, mutually beneficial relationships.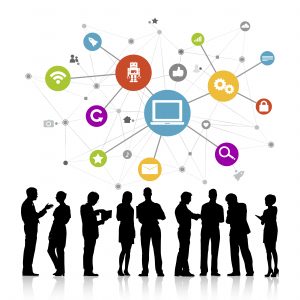 And that's not all. Business networking involves going out in a planned systematic way with a very clear goal in mind to meet new people in order to build a list of contacts who you get to know, like and trust with the aim to help and mutually support each other to build your businesses.
Because the most important factor is this By connecting with other businesspeople, you can learn new skills and information that helps your business to learn from others, spread awareness or seek funding. You see, when you have good contacts and helpful skills to offer to others, you don't keep this to yourself. You hook other people up, they hook you up, and there's no sense of competition.
So please remember this point …when you do something good for others, it comes back to you many times over. When you help others with no expectations or obligations, their natural response will be to help you back in turn. This is the true power of business networking.
The big idea is that you become a valuable resource for others in your network that they can use. And the fact is, when you 'pay it forward' in this way, helping others to solve their business problems with your knowledge, skills and expertise, they'll be much more inclined to help you.
And this discovery can change your life… Long before you expect anything from people you meet, you simply need to get to know them and offer them something of value to their business. Which means you have got to change your approach and mindset because there is no short-term gain as everything is done for the long-term benefits.
Put yourself in this picture…
First, you build trust and rapport through good communication skills with the contacts you meet. Just remember that it takes time to earn this trust and build this rapport, so you don't start asking for favours from your new contacts immediately.
Secondly, this means connecting people within your network who have the skills or knowledge that others need. In business, this is one of the best things you can ever do for another person. And in return, people in your network will remember how you did this for them and reverse the value by introducing you to other people they know who can help you. In this way, a major benefit of networking is referrals and though these your network then starts to grow.
Thirdly, good networkers aren't born. They're created over time through patience and effort. Networking is a skill you need to learn and practice just like any other business skill.
Fourthly, there is a 5-step process which you can use to be successful in business networking. Here's how it works:
Step #1: Research. This is where you do your preparation and groundwork to find the right events and businesspeople with whom you want to network. You're going to be looking for people who can help you achieve your business goals.
Step #2: Connect. With those people you identified in your research there are a variety of ways you can connect, not just with conversations at the events and meetings, but online through email and social media, especially LinkedIn which is essentially a business networking site.
Step #3: Follow-Up. Following up by one-to-one meetings, telephone, email and social media is a critical part of networking to build your relationships. If you don't reconnect quickly with the people you meet and are introduced and referred to, this will be taken as bad business practice.
Step #4: Results. At this point, you look at the outcomes of how your follow-up connections and referrals are achieving your goals and decide on next steps.
Step #5: Monitor & Measure. You'll need to frequently monitor and measure the results of your networking to see if you're actually achieving your goals and regularly plan, check, review and refine your action plans after testing your results.
---