A business's mission statement is vitally important because it states clearly to your stakeholders what your business seeks to achieve and sets out how you govern your business, your business ethics and the culture of your business.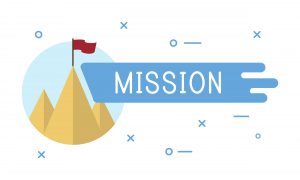 Therefore, your mission should be memorable, exclusive to your business and differentiate your business from other competitors by precisely defining your distinctive competence and unique purpose, aspirations, values and core meaning.As stated above, your mission will be influenced by four major sources outlined below as follows:
The Stakeholders in your business: The make-up of these stakeholders fall into the following categories:
The shareholders who own the business
Investors
Employees who work In the business
Suppliers, such as self-employed contractors and other services supplying resources e.g. products, materials, equipment, IT, etc.
The wider community who have an influence in your business such as business networking groups
Competitors who also influence how you plan and market your business
And last but not least, your groups of customers
Business Governance: how you run your business through:
Regulatory frameworks – for instance how you operate within the relevant tax and legal information
Accountability such as your business's direction, behaviours, administration and performance answerable to your stakeholders which it serves
Business Ethics: How your business is conducted in terms of:
Guiding principles
Beliefs
The activities, actions, morals and manner of individuals associated with your business
Social responsibility for environmental issues, fair trade and those effecting individuals
Cultural Environment: Your customs, traditions and business impact in alignment with your:
Interactions with the wider international environment
Interactions with the national environment
Interactions with the local environment
Leadership
Respect for individuals and subgroup
Which means your mission statement should represent a long-term view of your business, be the basis of business planning and, as a result, assert influence, and direct and shape your financial business plan and hence your marketing and operations.
And your mission should be future proof; focus on value, identify the key market(s) in which your business operates, be correctly communicated and have a wider prospective than pure commercial considerations.
A mission should answer questions, not raise them. And it should clearly state 4 current broad activities:
What business we're in
What makes us special
What do we stand for
What is the indication for our future direction (the vision of the business)
---