If you're only using Pinterest occasionally as one of your social media sites, then you may be missing out on some exciting updates the social platform is rolling out.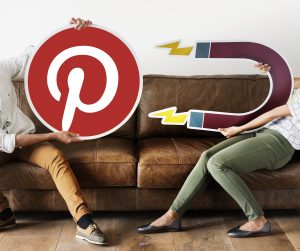 And the reason why is because Pinterest is one of the best social network sites for driving and getting you traffic for customer leads, because research has shown that each post, or "pin", has a 'shelf-life' of up to three months. Whereas, by contrast, a Facebook post is seen to have a shelf life of approximately 3 hours, and a tweet on Twitter is seen to reach its full potential around 24 minutes after being published.
When uploading your brand images into Pinterest, while it's important to stay active on the site, Pinterest gives priority to the first five pins you post, and these five pins are distributed far and wide so you can grow your following and experience getting more traffic and valuable customer leads. Which means when you're promoting through Pinterest, schedule one of your first posts at the start of the day and you'll get a bigger surge of traffic.
In addition, Pinterest allows you to 'save' a pin to multiple boards which is useful when you have overlapping boards. For example, if you have a baby training website, you may have a board called 'Baby Nutrition' and 'Common Baby Illnesses'. So, if you have a pin about gluten free baby food, then this pin could be added to both of your boards.
Just keep in mind that Pinterest will rank the first board as the most important one, so, prioritise your boards when posting to multiple ones. And make sure that the different boards you're using are always relevant to your pin, otherwise, Pinterest may pick up that you're 'spamming' and remove your post or even ban your account.
Another great feature on the Pinterest platform is the ability to arrange your pins on your board, which means you can choose the order of your pins and re-arrange them in whichever way you like. To get the most out of this tool, focus on putting your best content at the top of your board as this makes it easy for followers and users of your site to clickthrough to your particular website page where you can pick them up as a new customer lead.
And by making it easier when creating 'long boards' to get traction, Pinterest allows 'brands' like you to break down their boards into sections which is helpful if you need to sub-categorise some of your content.
For example, if you run a sugar free diet cooking blog, you create a board titled: "Sugar Free Diet Breakfast Ideas" and because you have hundreds of posts to share, you could take your "Sugar Free Diet Breakfast Ideas" board and add new sections such as for: "Hot Sugar Free Breakfasts"; "Vegetarian Sugar Free Breakfasts" or "Quick Sugar Free Breakfast Ideas".
You also need to remember that Pinterest is ideal for some types of market niches and not so good for others. For instance, Pinterest is particularly suited for marketing events, do-it-yourself, home decoration, gardening, arts and crafts and holiday businesses and if you are in the wedding or graduation niches, then Pinterest can be a wonderful source of traffic and generating customer leads from those audiences.
---