Social media marketing is the process of planning and implementing a range of appropriate social media sites to engage with your particular business' markets with the goal of promoting your products and services, and in addition, both your business brand and your own personal brand story.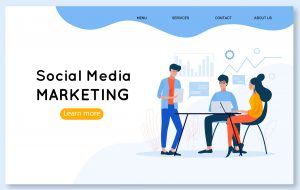 The reason why this is important is that businesses of all sizes can now use social media to realise the potential of a variety of social media platforms as a powerful marketing and advertising channels for both business to consumer (B2C) and business to business (B2B), such as Facebook, Instagram, Pinterest, YouTube, and also LinkedIn.
What this means is that social media marketers can now initiate and leverage aspects of social networks that facilitate interactions and stories between companies and users, including instant messaging, live streamed videos and social interactions such as likes, shares, pins and virality.
A big plus with using social media marketing strategies is that they are simple to execute because they usually generate an instant response and businesses can setup and boost their profile on any of the big social networks and begin sending out information content that can be optimised to generate organic reach.
The result of this strategy is that businesses creating their social profile for optimising content updates will start getting feedback and followers in a matter of hours. With the right social media marketing strategy and skills, they can then nurture and turn a good percentage of those followers into customers leads and convert this 'traffic' into brand ambassadors, referrals, and into product sales further along the customer life cycle process.
Given the potential for these outcomes, that's the reason why businesses and marketing agencies are joining social media networks, especially as when used correctly, social media marketing can be both cost-efficient and produce quick and effective results.
So, how can social media marketing help your business?
Social media marketing helps you build a presence on some of the most powerful and popular online social interaction sites in the world… And you have the option to connect for free or pay to get in front of your customer markets.
In other words, social media marketing doesn't require a huge investment of finance up front as long as you know how to apply the right strategies and monitor and test your results.
You can also develop social media marketing strategies that help you and your business brand get into connections and the conversations that people are having around your product and service.
And by so doing, social media marketing will help you personalise customer relationships because social media users love to interact with stories and brands who they know, like and ultimately trust.
In fact, social media marketing provides an opportunity for both you and your brand to achieve exceptional levels of attraction and engagement activity to achieve business results.
In addition, most social media networks have collected instant user data and used this to incorporate into advertising solutions with built-in advertising tools that let you run, monitor and test paid advertising campaigns for a fraction of the cost of traditional media campaigns.
Social media marketing also allows you to integrate links from your social channels to your websites, landing pages and to your other social media channels.
As a final point, it is worth remembering that personal preferences will influence what type of social media marketing strategy you should research and use on each different social network platform and which specific type of marketing 'posts', 'pins' and advertising styles you should be applying to get the benefits you have planned to achieve.
---