There's now a new place to go for all those time-poor homeowners who want professional interior design advice. The John Lewis & Partners that's been trusted for all their other products over the years has now launched its new 'World of Design' service. So, for all those wanting help with their décor and furnishings can now drop in to consult one of their interiors experts.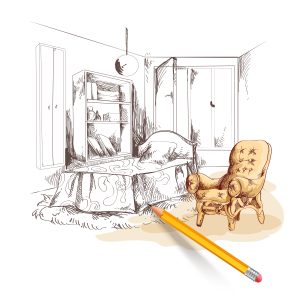 This is the latest new service in their long line of innovations that has included sampling their beds by sleeping overnight in the shops. And that's because as Peter Cross, John Lewis & Partners' director of customer experience, said in a recent interview "Shopping is changing faster than any of us could have predicted… Expectations on retailers are enormous."
The top 4 list of questions you're likely to think about when asking a professional interior designer for advice would probably include the following:
1. Who will be using the room and when? Because if the room is for entertaining in the evenings rather than relaxing during the day at weekends then that will demand a completely different design look for the décor and furnishings.
2. Do you have any specific design 'definitely must haves' or 'definitely must not haves'? If there are décor or furnishings design specifics you want or don't want it's critical that you put these on your list so that you're not disappointed with the end result.
3. Are there any existing or new items you want to keep or highlight? These may be sentimental pieces of history that you would love to showcase in the new design. Or there may be lots of photos that you have on your digital devices that you would love to display. Perhaps in small clusters or in a large wall mural.
4. What are the paint colours you love/hate? This decision will affect the total look and ambience of any room so it's vital that you give this thought beforehand.
You might have thought that the days of the mood board might be in the past. But think again! You can't beat a well-designed mood board that's been created by a professional interior designer. Especially when it's been produced with the help of the new free 'World of Design' service from John Lewis & Partners.
---